Waupaca Boatride Volleyball Tournament




July 6-9, 2023




Oshkosh, WI - Brighton Acres





Tournament Schedule:


Wed-Fri. July 5-7, AVP Sand Doubles - TBD - Brighton Acres
Thu. July 6, Juniors Clinic - 10:00am - Brighton Acres
Fri. July 7, Under 6' & Womens A Sand Doubles - 9:00am - The Bar of Oshkosh
Fri. July 7, Mens A Sand Doubles - 9:00am - Rev's Bowl Bar & Grill
Fri. July 7, Grass Doubles - 9:00am - Brighton Acres
Fri. July 7, Coed Quads - 9:00am - Brighton Acres
Fri. July 7, Juniors Quads - 9:00am - Brighton Acres
Sat. July 8, Mens & Womens Triples - 8:00am - Brighton Acres
Sun. July 9, Coed Sand Doubles - 9:00am - Rev's Bowl Bar & Grill
Sun. July 9, Coed Grass Doubles - 9:00am - Brighton Acres
Sun. July 9, Juniors Sand Doubles - 9:00am - Brighton Acres & The Bar of Oshkosh
Sun. July 9, Reverse Coed Quads - 9:00am - Brighton Acres



News and Information:




May 31, 2023 - Sand Doubles Registration is Open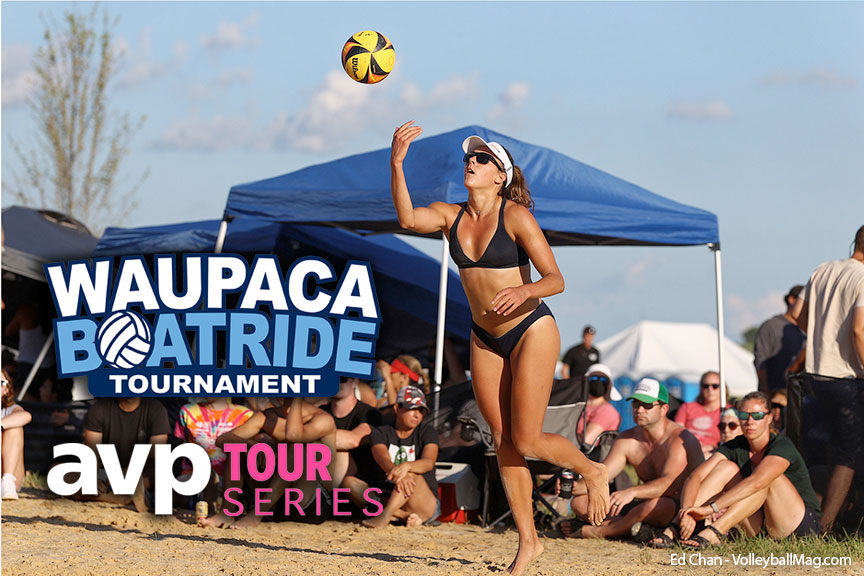 Waupaca Boatride and the AVP are partnering up again this year on all of the sand/beach divisions. Waupaca Boatride will be a stop on the AVP's 2023 Tour Series, beginning with a qualifier on Wednesday, July 5th, and ending with a two-day, 24-team main draw for each gender. The finals will be held on Friday night, June 7th.

All sand divisions, including Open, Non-Open and Juniors, are now open for registration. *Space is limited.

Important: All participants are required to have an ACTIVE AVP Silver membership or higher, so please get that in order before trying to register. avpamerica.com



May 24, 2023 - Camping Registration is Open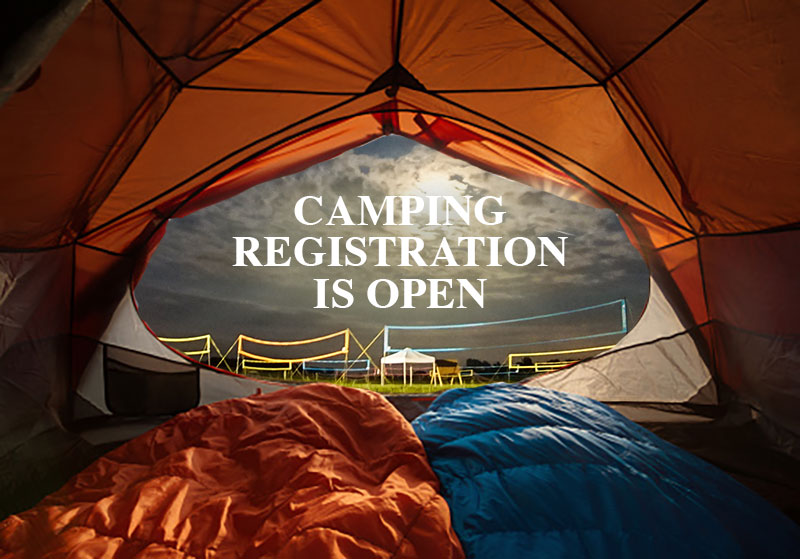 Camping registration is open: Camping rules and details | Register Now



May 19, 2023 - Event Connect - Hotel Reservations Partner






We are using a new hotel booking service called Event Connect. They work out deals with hotels on rates and promise the best rates available. Check out the available hotels.



Mar 23, 2023 - Grass Tournaments are Open for Registration


Registration is now open for all of this year's grass divisions at Waupaca Boatride. Visit waupaca.volleyballlife.com to register today.



Dec 29, 2022 - Spiketown Showdown



We will be running grass tournaments at the Spiketown Showdown in Mesa, AZ over Cinco De Mayo Weekend (May 5-7, 2023). Spiketown Showdown will feature indoor, beach and grass volleyball events all on the same weekend and in one location! Bell Bank Park is the largest sports and entertainment facility in North America, you need to see it to believe it.

Registration Links
Friday May 5: Grass Quads (Coed and Juniors) - Register
Saturday May 6: Grass Doubles (Men's, Women's and Coed) - Register
Sunday May 7: Grass Triples (Men's and Women's) - Register

This is the inaugural event, so they are still ironing out a few things. If you have any questions, contact us and we will do our best to get you answers.



Dec 27, 2022 - 2022 Final Results



Ever wonder who you tied with for 165th place, or how that team that beat you ended up doing? We've added your final placements to our registered teams page.

View the 2022 Final Results

Match results can be found at waupaca.volleyballlife.com.



Dec 7, 2022 - 2023 Dates


The Waupaca Boatride Volleyball Tournament is always scheduled around the second Saturday of July. The dates for 2023 are July 6-9. Tournament registration will open sometime in February 2023.



Jul 6, 2022 - Pool Assignments and Court Maps Released


Grass tournament pools and schedules are at waupaca.volleyballlife.com
AVP Men's & Women's Open schedules will be posted at avpamerica.bracketpal.com
All Non-Open Adult and Juniors Sand Doubles brackets will be announced the morning of.

Court Maps
2022 Friday Court Map
2022 Saturday Court Map
2022 Sunday Court Map

Important Note: Your Pool or Court Number may change between now and the tournament. Please double check the site for any updates before arriving.

Here's a copy fo the final email sent to all players: Final Email



Jul 5, 2022 - Volleyball Life - Waivers, Check-In, Results


We are using the online tournament software called Volleyball Life for our GRASS check-ins, waivers, schedules and results. Teams will enter their own scores directly from their phones, and people can follow along from anywhere.

Update: We learned last year that there will be some phone carriers that struggle to handle the amount of people on the grounds. If you are having issues recording scores, please report them to your headquarters tent. Keeping the pool results up-to-date is very important.

Check-In: Be on the lookout for check-in emails the night before the tournament. If you do not check-in online, you must come early to check-in in person. Tournaments will not start until all teams are checked in.

Roster Changes: Please make your own roster changes by using the edit link from your team confirmation email.



Jul 5, 2022 - Juniors Sand Doubles Start Times and Locations


Here are the check-in times, start times and locations for the Juniors Sand Doubles tournament on Sunday, July 10. All times are subject to change. The start times in the afternoon are approximate, they depend on the progress of the morning tournament.

Brighton Acres - 4057 Fisk Ave
Girls 14U Elite - 8:30am check-in, 9:00am start
Girls 14U - 8:30am check-in, 9:00am start
Girls 18U - 8:30am check-in, 9:00am start
Boys 18U - 8:30am check-in, 9:00am start

The Bar of Oshkosh - 825 North Washburn
Girls 12U - 8:30am check-in, 9:00am start
Girls 16U - 8:30am check-in, 9:00am start

Check-in at the appropriate location.



Jun 14, 2022 - Craft Beer Sponsor: Third Space Brewing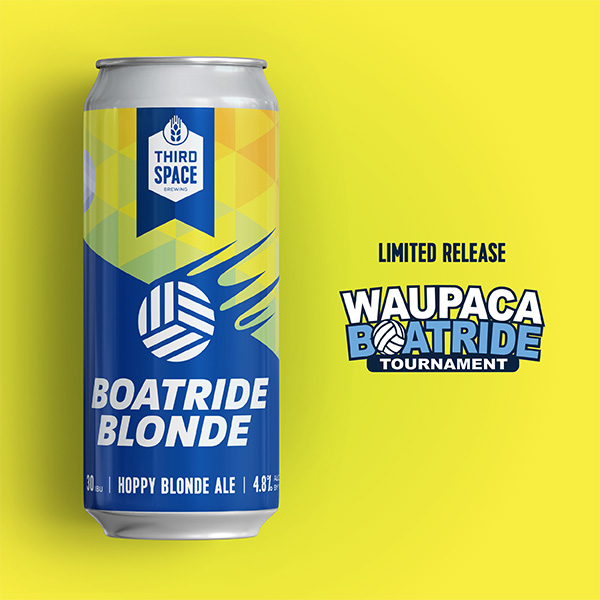 We are excited to announce that Third Space Brewing out of Milwaukee, Wisconsin will be the Craft Beer Sponsor of this year's Waupaca Boatride Volleyball Tournament.

Third Space is offering us our very own, limited release beer called Boatride Blonde! Boatride Blonde is a blonde ale with hints of orange, mango and melon. It's low bitterness makes it great for easy drinking.

You will be able to find Boatride Blonde and other Third Space beers everywhere that beer is sold on the grounds, including our new camp store.



Jun 10, 2022 - Preorder Event Merchandise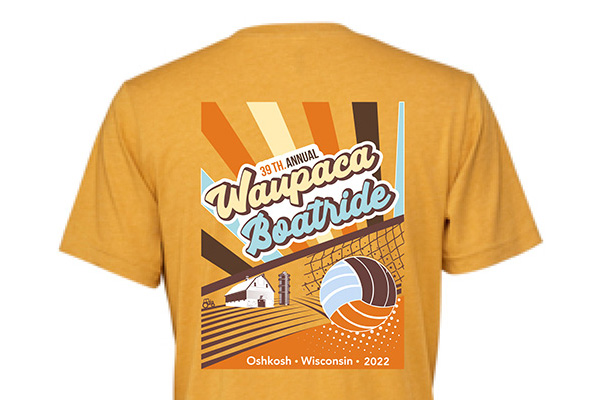 Did you miss out on event merchandise last year? Here's a way to guarantee you get everything you want...

2022 Event Merchandise is available for pre-order now through June 14th. Pickup your orders at the event.

Visit Kamena Outdoor to see the items and to place your order.

These items will also be available at the event, while supplies last.



May 23, 2022 - Camping Registration and Camp Store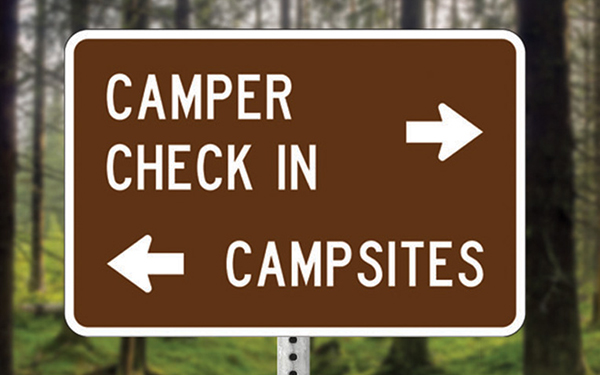 Camping registration is open: Camping rules and details | Register Now

NEW
There will be an onsite camp store this year filled with essentials such as beer, food, ice and other items campers may have forgotten to bring.

The thought process behind the camp store is to offer people items that they would normally leave the campgrounds for. Two-way traffic, especially in the mornings with so many pedestrians, causes some safety concerns, so we are trying to minimize the need for people to leave.

Please take this 5 question survey to help us make some decisions about the store. Survey



May 15, 2022 - Waupaca Boatride Becomes an AVP Pro Tour Event





The Open Sand Division at Waupaca Boatride has been upgraded to an AVP Pro Tour event for 2022! Last year's AVP Next Gold event was a big success and the next step was to make it a Pro Tour stop. The AVP has raised the prize money purse to $50,000 and the tournament will now be a 3-day event, starting on Thursday, July 7 and ending on Saturday, July 9.

There will be a 48 team, single-elimination qualifier for men and women on Thursday, July 7, followed by a 24 team double-elimination main draw tournament starting on Friday and finishing up with the final matches on Saturday.

For those AVP players that are worried about not being able to play on Saturday in the Triples tournament, we are going to try to be as flexible as possible with the Triples Open divisions. We are only expecting a handful of players to be affected, but since there's no way to know that ahead of time, we suggest registering for both tournaments and/or using 4 player rosters. We will be lenient with last minute changes, as well as the refund policy. If you have any questions, please contact us.

Visit AVP America to register or to view more information.





Over $80K in Cash and Prizes!