Waupaca Boatride Volleyball Tournament




July 6-9, 2023




Oshkosh, WI - Brighton Acres





Tournament Schedule:


Wed-Fri. July 5-9, AVP Sand Doubles - TBD - Brighton Acres
Thu. July 6, Juniors Clinic - 9:30am - Brighton Acres
Fri. July 7, Under 6' & Womens A Sand Doubles - 9:00am - The Bar of Oshkosh
Fri. July 7, Mens A Sand Doubles - 9:00am - Rev's Bowl Bar & Grill
Fri. July 7, Grass Doubles - 9:00am - Brighton Acres
Fri. July 7, Coed Quads - 9:00am - Brighton Acres
Fri. July 7, Juniors Quads - 9:00am - Brighton Acres
Sat. July 8, Mens & Womens Triples - 8:00am - Brighton Acres
Sun. July 9, Coed Sand Doubles - 9:00am - Rev's Bowl Bar & Grill
Sun. July 9, Coed Grass Doubles - 9:00am - Brighton Acres
Sun. July 9, Juniors Sand Doubles - 9:00am - Brighton Acres & The Bar of Oshkosh
Sun. July 9, Reverse Coed Quads - 9:00am - Brighton Acres



News and Information:




Mar 23, 2023 - Grass Tournaments are Open for Registration


Registration is now open for all of this year's grass divisions at Waupaca Boatride. Visit waupaca.volleyballlife.com to register today.



Dec 29, 2022 - Spiketown Showdown



We will be running grass tournaments at the Spiketown Showdown in Mesa, AZ over Cinco De Mayo Weekend (May 5-7, 2023). Spiketown Showdown will feature indoor, beach and grass volleyball events all on the same weekend and in one location! Bell Bank Park is the largest sports and entertainment facility in North America, you need to see it to believe it.

Registration Links
Friday May 5: Grass Quads (Coed and Juniors) - Register
Saturday May 6: Grass Doubles (Men's, Women's and Coed) - Register
Sunday May 7: Grass Triples (Men's and Women's) - Register

This is the inaugural event, so they are still ironing out a few things. If you have any questions, contact us and we will do our best to get you answers.



Dec 27, 2022 - 2022 Final Results



Ever wonder who you tied with for 165th place, or how that team that beat you ended up doing? We've added your final placements to our registered teams page.

View the 2022 Final Results

Match results can be found at waupaca.volleyballlife.com.



Dec 7, 2022 - 2023 Dates


The Waupaca Boatride Volleyball Tournament is always scheduled around the second Saturday of July. The dates for 2023 are July 6-9. Tournament registration will open sometime in February 2023.



Jul 6, 2022 - Pool Assignments and Court Maps Released


Grass tournament pools and schedules are at waupaca.volleyballlife.com
AVP Men's & Women's Open schedules will be posted at avpamerica.bracketpal.com
All Non-Open Adult and Juniors Sand Doubles brackets will be announced the morning of.

Court Maps
2022 Friday Court Map
2022 Saturday Court Map
2022 Sunday Court Map

Important Note: Your Pool or Court Number may change between now and the tournament. Please double check the site for any updates before arriving.

Here's a copy fo the final email sent to all players: Final Email



Jul 5, 2022 - Volleyball Life - Waivers, Check-In, Results


We are using the online tournament software called Volleyball Life for our GRASS check-ins, waivers, schedules and results. Teams will enter their own scores directly from their phones, and people can follow along from anywhere.

Update: We learned last year that there will be some phone carriers that struggle to handle the amount of people on the grounds. If you are having issues recording scores, please report them to your headquarters tent. Keeping the pool results up-to-date is very important.

Check-In: Be on the lookout for check-in emails the night before the tournament. If you do not check-in online, you must come early to check-in in person. Tournaments will not start until all teams are checked in.

Roster Changes: Please make your own roster changes by using the edit link from your team confirmation email.



Jul 5, 2022 - Juniors Sand Doubles Start Times and Locations


Here are the check-in times, start times and locations for the Juniors Sand Doubles tournament on Sunday, July 10. All times are subject to change. The start times in the afternoon are approximate, they depend on the progress of the morning tournament.

Brighton Acres - 4057 Fisk Ave
Girls 14U Elite - 8:30am check-in, 9:00am start
Girls 14U - 8:30am check-in, 9:00am start
Girls 18U - 8:30am check-in, 9:00am start
Boys 18U - 8:30am check-in, 9:00am start

The Bar of Oshkosh - 825 North Washburn
Girls 12U - 8:30am check-in, 9:00am start
Girls 16U - 8:30am check-in, 9:00am start

Check-in at the appropriate location.



Jun 14, 2022 - Craft Beer Sponsor: Third Space Brewing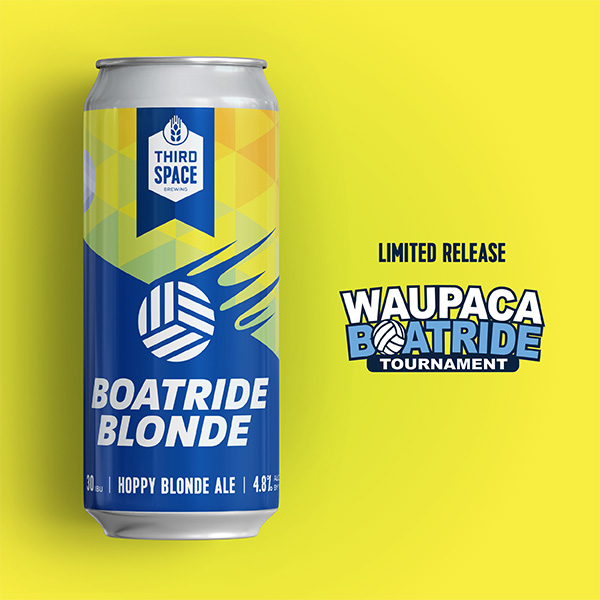 We are excited to announce that Third Space Brewing out of Milwaukee, Wisconsin will be the Craft Beer Sponsor of this year's Waupaca Boatride Volleyball Tournament.

Third Space is offering us our very own, limited release beer called Boatride Blonde! Boatride Blonde is a blonde ale with hints of orange, mango and melon. It's low bitterness makes it great for easy drinking.

You will be able to find Boatride Blonde and other Third Space beers everywhere that beer is sold on the grounds, including our new camp store.



Jun 10, 2022 - Preorder Event Merchandise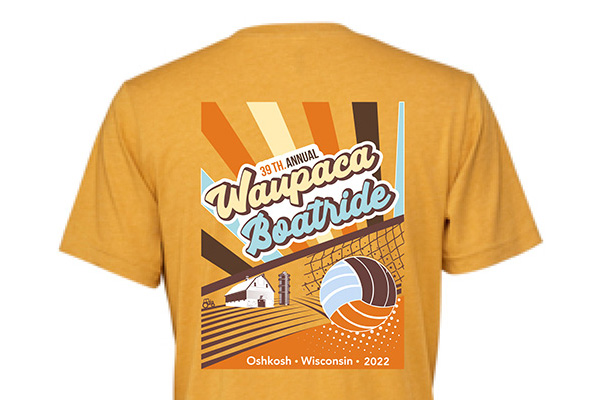 Did you miss out on event merchandise last year? Here's a way to guarantee you get everything you want...

2022 Event Merchandise is available for pre-order now through June 14th. Pickup your orders at the event.

Visit Kamena Outdoor to see the items and to place your order.

These items will also be available at the event, while supplies last.



May 23, 2022 - Camping Registration and Camp Store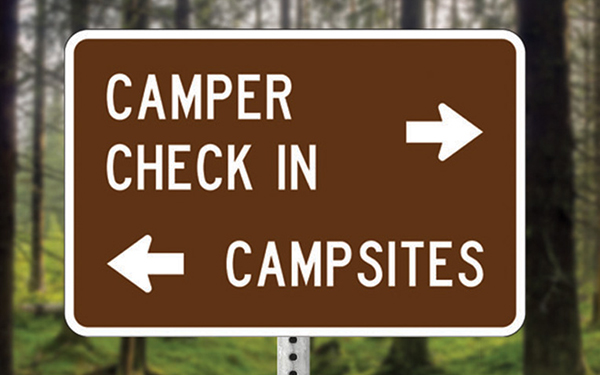 Camping registration is open: Camping rules and details | Register Now

NEW
There will be an onsite camp store this year filled with essentials such as beer, food, ice and other items campers may have forgotten to bring.

The thought process behind the camp store is to offer people items that they would normally leave the campgrounds for. Two-way traffic, especially in the mornings with so many pedestrians, causes some safety concerns, so we are trying to minimize the need for people to leave.

Please take this 5 question survey to help us make some decisions about the store. Survey



May 15, 2022 - Waupaca Boatride Becomes an AVP Pro Tour Event





The Open Sand Division at Waupaca Boatride has been upgraded to an AVP Pro Tour event for 2022! Last year's AVP Next Gold event was a big success and the next step was to make it a Pro Tour stop. The AVP has raised the prize money purse to $50,000 and the tournament will now be a 3-day event, starting on Thursday, July 7 and ending on Saturday, July 9.

There will be a 48 team, single-elimination qualifier for men and women on Thursday, July 7, followed by a 24 team double-elimination main draw tournament starting on Friday and finishing up with the final matches on Saturday.

For those AVP players that are worried about not being able to play on Saturday in the Triples tournament, we are going to try to be as flexible as possible with the Triples Open divisions. We are only expecting a handful of players to be affected, but since there's no way to know that ahead of time, we suggest registering for both tournaments and/or using 4 player rosters. We will be lenient with last minute changes, as well as the refund policy. If you have any questions, please contact us.

Visit AVP America to register or to view more information.



May 12, 2022 - Sand Tournaments Open for Registration this Sunday


Notice: All Sand Divisions will open for registration after 6pm CST on Sunday, May 15th. Links will be posted on this website.

Unlike the grass events, space is very limited. AVP memberships are required before registering, so it's best to get that in order before registration opens. Open players need a Gold membership, and all other players need a Silver membership. Visit avp.com/membership for more information.



Apr 10, 2022 - Grass Tournaments are Open for Registration


We have migrated to a new online registration system, and are now ready to take registrations for all of this year's grass divisions at Waupaca Boatride. Visit waupaca.volleyballlife.com to register today.



Mar 2, 2022 - Registration Update


As some have noticed, it's March and Waupaca Boatride 2022 registration isn't open yet. No need to fear, registration is coming soon. We are rolling out a new registration system and just need to work out some kinks first. Stay tuned.



Dec 10, 2021 - 2022 Dates


The Waupaca Boatride Volleyball Tournament is always scheduled around the second Saturday of July. The dates for 2022 are July 7-10. Tournament registration will open sometime in February 2022.



Jul 7, 2021 - Parking and Traffic Flow


Thursday Parking: It rained all day and the grounds are very wet so we need to manage parking delicately tomorrow. Please utilize carpooling by meeting up elsewhere and driving in together. There are park-n-rides nearby.

We are trying to manage traffic in a different way, so we don't have a backup all the way to US 41. Please follow these rules: 1. If you are coming from North of Brighton Acres, please exit US 41 at the WIS 44 exit, #116, (by outlet mall) and come in from Clay Rd. 2. If you are coming from South of Brighton Acres, please exit US 41 at the WIS 26 exit, #113, and come in from Fisk Rd.




Jul 6, 2021 - Pool Assignments and Court Map Released


We are entering the digital age! With the help of Volleyball Life, we will have all of our check-ins, pools, schedules and results online. Teams will enter their own scores directly from their phones, and people from home will be able to follow along. Be on the lookout for check-in emails the night before the tournament. If you do not check-in online, you must come early to check-in in person. Tournaments will not start until all teams are checked in.

Grass tournament pools and schedule are at waupaca.volleyballlife.com
AVP Next Gold schedules are posted at - avpamerica.bracketpal.com
All Non-Open Adult and Juniors Sand Doubles brackets will be announced the morning of.

Court Maps
2021 Friday Court Map
2021 Saturday Court Map
2021 Sunday Court Map

Notes:
-Some changes are not reflected on both our site and Volleyball Life.
-Your Pool or Court Number may change. Look at the Pool Play Boards when you arrive. Its also possible that no-shows may affect what court you are playing on.



Jul 5, 2021 - Juniors Sand Doubles Start Times and Locations


Here are the check-in times, start times and locations for the Juniors Sand Doubles tournament on Sunday, July 11. All times are subject to change. The start times in the afternoon are approximate, they depend on the progress of the morning tournament.

Brighton Acres - 4057 Fisk Ave
Girls 12U - 7:30am check-in, 8:00am start
Girls 14U Elite - 7:30am check-in, 8:00am start
Girls 14U Club - 7:30am check-in, 8:00am start
Girls 18U - 12:30pm check-in, 1:00pm start (ish)

The Bar of Oshkosh - 825 North Washburn
Girls 16U - 7:30am check-in, 8:00am start
Boys 18U - 12:30pm check-in, 1:00pm start (ish)

Check-in at the appropriate location.



May 29, 2021 - 2021 Non-Open Sand Doubles Events Registration Update





All non-Open sand doubles tournaments will open for registration on Tuesday, June 1st @ 10am CST. Friday, July 9th sand tournaments include: Men's A, Women's A and Under 6 Foot divisions. Sunday, July 11th sand tournaments include: all Junior's divisions as well as Coed doubles. These tournaments will be filled on a first come, first served basis and all are expected to fill up quickly. Players will need to be AVP Silver members in order to signup and participate, so it would be wise to have that in order before registration opens on Tuesday. Here is the link to the AVP Membership page: https://avp.com/membership-sign-up/.



May 29, 2021 - 2021 AVP Next Gold Registration





Registration is currently open for the AVP Next Gold @ Waupaca Boatride. This two-day open sand doubles event will be held on Thursday July 8 and Friday July 9 in Oshkosh, WI. All of the details can be found on the registration page: Register Here.



May 28, 2021 - Camping Registration is Open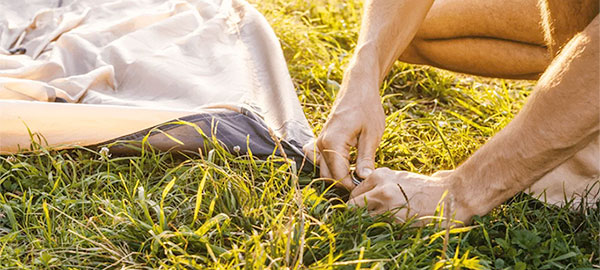 Camping is back! Registration is now open for Waupaca Boatride Camping. Organize your groups and claim your sites before they are gone. Camp sites are awarded on a first come, first served basis. Come star gaze with a thousand of your closest volleyball friends! Camping rules and details | Register Now



Apr 21, 2021 - KO Strong





On February 18th, Kurt Officer (KO) suffered a major hemorrhagic stroke on the right side of his brain. He is on a long, slow road to recovery with his wife Katie Officer (KO) by his side. We are introducing this shirt/donation idea as a way to help Kurt and Katie with their financial burden during this recovery period.

For those that don't know him, Kurt is a director of Waupaca Boatride, and one of the reasons the tournament has become one of the best volleyball events in the world. His attention to detail and dedication to the players is the main reason the tournaments run so smoothly each year. You can show your appreciation by making a donation below, or just by sending him words of encouragement via our Contact Form.

You can preorder a KO Strong shirt here for a $25 donation or more. 100% of all proceeds will go towards Kurt's medical expenses. Shirts can be pre ordered until mid June, and will be available for pick up at this year's Waupaca Boatride. We hope to assemble an army of people wearing the shirts at the Triples finals. We will also make a limited amount of shirts and sizes available for purchase on the day of the event. We are also exploring a few other fundraising options during the tournament weekend to support KO Strong. Stay tuned!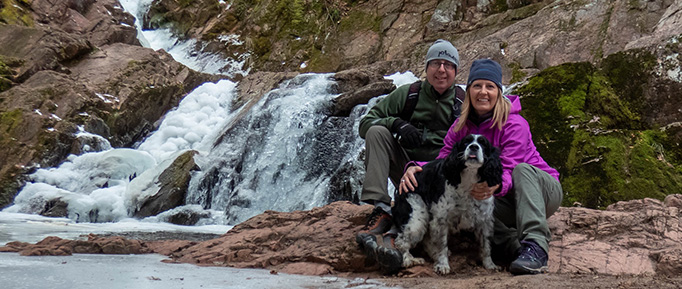 Apr 15, 2021 - 2021 AVP Next Gold Event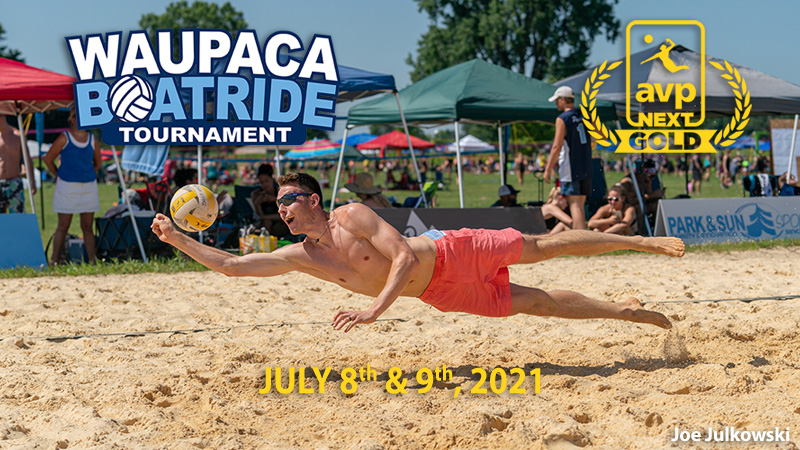 The Open level Sand Doubles tournament will once again be an AVP Next Gold event, which means better competition, more prize money and an AVP main draw bid. The tournament starts on Thursday, July 8th and will be a 2-day, double elimination with Olympic Crossover format. Registration information coming soon.

Registration for all sand divisions has been pushed back to May while the AVP works out the kinks of their newly launched website. We will send out another email when registration opens.



Mar 8, 2021 - 2021 Grass Registration is Now Open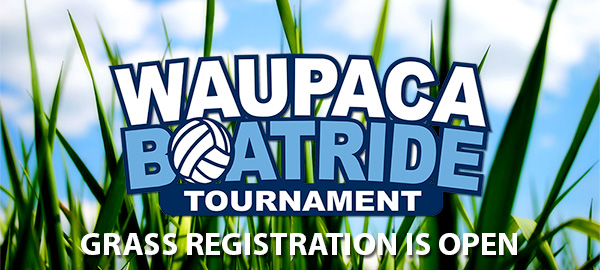 Registration is now open for the grass portion of the 2021 Waupaca Boatride/US Open Grass Volleyball Tournament. The event will be held at Brighton Acres, The Bar of Oshkosh and Rev's Bowl Bar & Grill in Oshkosh, Wisconsin on July 8-11, 2021.

Grass Tournaments:
Friday July 9: Coed Quads, Juniors Quads and Grass Doubles
Saturday July 10: Mens & Womens Triples
Sunday July 11: Reverse Coed Quads

Sand Registration: Coming in April.





Over $80K in Cash and Prizes!